Welcome to RomanPunks,
a collectible NFT project.
"It's AD 410, the Goths are sacking the city of Rome. A rift in the fabric of space-time occurs at the Temple of Jupiter Capitolinus. Suddenly multiple dimensions collide and coalesce. Time travelers and space farers exist alongside terrestrials who had previously lived thousands of years apart. The world is now a fractured patchwork of time and space with Rome at the center of it all. The world is now RomanPunk."
COLLECT
RomanPunk Avatar NFTs are listed on OpenSea on the Ethereum blockchain. RomanPunk NFT Trading Cards are housed on the WAX blockchain through Atomic Hub.
Collect your favourite cards on WAX, trade them with your friends, blend two together and, try to collect them all!

Collect your favourite avatars on OpenSea and receive dividends in the form of profit sharing crypto airdrops.
INTERACT
RomanPunks Discord community is an active and fun environment for all walks of life. Join the Discord and enjoy frequent giveaways and airdrops
Meet other crypto / blockchain enthusiasts and learn how to get more involved in NFT projects.
Participate in frequent community giveaway events including trivia contests, casino games and card games.
PLAY
Quest in our Catacombs RPG to win WAX cards.
Play in our Monte Carlo casino and redeem your winnings for WAX cards.
Join our hosted gladiator battle tournaments to win epic prizes.
COMING SOON:  Enjoy our Sandbox Colosseum experience.
GET REWARDED
ETH NFT owners entitled to #1 mints of the WAX card with matching ##.
ETH NFT owners receive monthly dividend payments from profits of the WAX collection.
All collectors participate in frequent giveaway contests and raffles.
WRITE THE STORY
Be part of the RomanPunk Empire!  Own an Ethereum RomanPunk NFT, join our Discord RPG community and choose to build a story around your character that will become part of the RomanPunks 410 COMICS.
Join the RomanPunks Discord, follow us on Twitter and check out our Medium for the latest project development updates.
Only 1,000 RomanPunks have been frozen in time and permanently minted on the Ethereum blockchain.

Emperors, generals, patricians, equestrians, plebeians, freedmen, slaves, centurions, soldiers, gladiators and peregrinae are among the diverse range of characters represented in this eclectic community.

A Cast of 1,000 Characters
Who are these mysterious RomanPunks who exhibit great diversity of style and personality? Well, they consist of a few famous people from history and pop culture as well as a large number of commoners from different ranks of societ that reflect the social structures of Ancient Rome.
Commoners
The vast majority of RomanPunks are common, and they fit into one of the following 10 categories:
Patrician
the 'elite' of society — high status and wealthy RomanPunks who generally look down on everyone else.
Equestrian
your typical 'upper-middle-class' snobs who spend more time in Toga raves than actually doing any work.
Plebeian
the average, every day joe shmoes of society — hard working folk who get by on an honest day's wage.
Peregrinae
the RomanPunks who move around and typically originate from places far away from the capital.
Soldier
the common footsoldier, represented from a whole range of ages and locales.
Centurion
a middle ranking officer with punk tendencies who leads a small group of soldiers.
Freedman
a former slave who was granted his freedom and makes the most of it.
Slave
these poor unfortunate punks must try to make it through life without their freedom.
Servant Woman
the typical servant who tends to the every needs of wealthy folk with some punk sass.
Gladiator
they fight to the death; for those who are about to die we salute you!


Nonhuman/Undead
Some RomanPunk citizens have been infiltrated by or transformed into a range of nonhuman and undead creatures
Ape
believed to come from a dimension that is populated entirely by apes, the RomanPunk apes have taken the places of common citizens and act naturally in the roles they have assumed.
Alien
how they got here, we do not know, but they creep the hell out of all the RomanPunks.
Cyborg
living tissue over metal endoskeleton, there are some cyborgs that live among the RomanPunks. Unfortunately, their facial skin peeled off from the interdimensional journey, yet they still attempt to integrate fully with the common folk.
Vampire
these bloodthirsty creatures are typically seen looking pale faced and hungry for their next feed.
Zombie
we're not sure, but it's possible that a dimension exists where a plague has created a race of undead beings. Some of them ended up in the ranks of the RomanPunks.
Animalia
who doesn't love cute and cuddly creatures? A whole range of bestiary have found their way into the RomanPunk community.
Famous
A number of famous citizens from the original Roman dimension exist; so do many from pop culture, science fiction and literature.
Deities/Gods
Yes, many of the great Roman gods including Jupiter, Bellona, Venus, Saturn and Neptune prosper within the realm of the RomanPunks.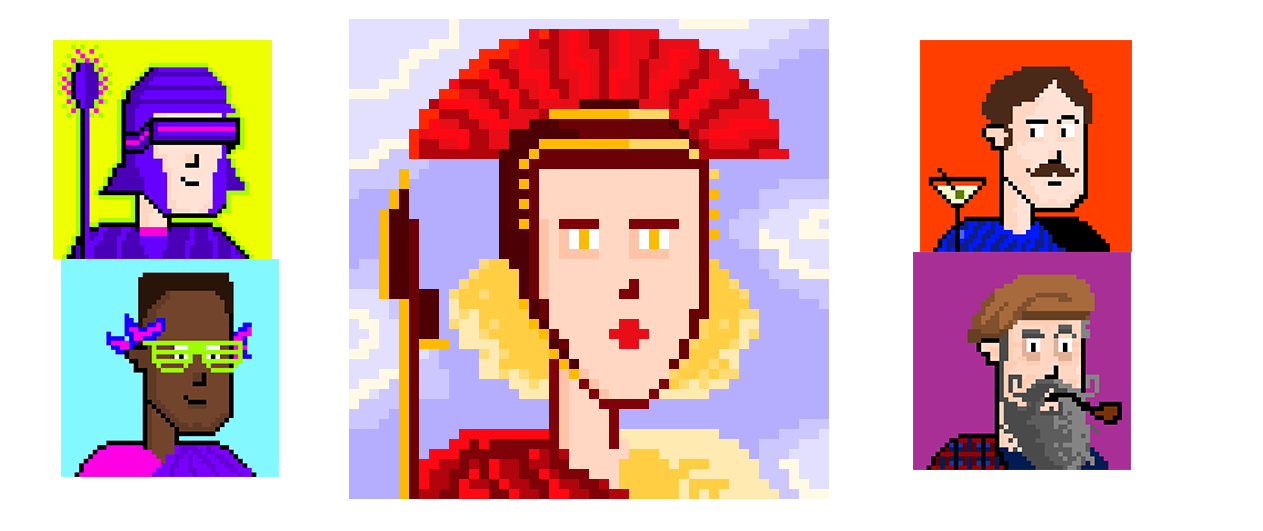 Pricing of OpenSea Ethereum RomanPunk Avatar NFTs
The purchase price increases with a bonding curve to reward early supporters so that more people will adopt the RomanPunks into their cyber spaces.
To build a community and encourage collecting and trading, we have designed the pricing model to be competitive and allow for new collectors to obtain their own RomanPunk.
Nonhuman/Undead (i.e. Zombie, Ape, Alien, Vampire, Cyborg, Animal)
Famous Tier 1 (less commonly known historical figures and minor pop culture/literature character representations)
Famous Tier 2 (very well known historical and cultural figures)
Famous Tier 3 (legendary individuals, for better or worse)
RomanPunks were born on Ethereum, but have come alive on WAX. While the original OpenSea RomanPunk NFTs are all 1:1 (max 1,000 supply), there are far more WAX NFTs available (although the exact number has yet to be revealed).

Higher volume allows for many more collectors to acquire RomanPunk NFTs while making them more accessible and affordable. Furthermore, the efficiency of the WAX blockchain + higher mint numbers allows for greater utility and gamification — next steps in the RomanPunk development project timeline.
Character Types and Races
The core of the RomanPunk NFT collection is a series of characters — individual beings who exist in the RomanPunk alternate dimension.
Each character belongs to both a 'type' and a 'race', which are the key attributes used to identify and classify that individual.
Types are further classfied into 'civilian', 'fighter' and 'famous' classes.
Types and races will be important for gamification utility and blending/breeding throughout the project life cycle.
Card Rarities
All RomanPunk trading cards will fall into 1 of 5 rarities from 'mythical' being the least common to 'common' being the most ubiquitous.
Rarities will be important for adding collector value to the RomanPunk NFTs, but also for blending and game utility (e.g. cards of higher rarity will have better stats in the arena).
Drop Method, Timing & Quantities
Drops will be planned and announced ahead of time, giving new collectors ample opportunity to join.

Drops will be done as individual NFTs, sets and 'packs' of random NFTs.
A strategic roadmap update for the blockchain-based, alternate history, cyberpunk derivative world-building project known as RomanPunks.
I. CONCEPT Stage — April to June 2021
The project first came into existence through early minting on OpenSea, promoting on Twitter and building a Discord community through giveaways and engagement. The idea of a cyberpunk-derivative 'RomanPunk' theme was in our heads for years, but it was the success of the Cryptopunks that was the catalyst for project conception and launch.
Project conceptualization & launch

Initial social media marketing & networking

Focus on populating OpenSea/Ethereum collection

Building a functional Discord server

Formulating vision for long term project growth
II. COMMUNITY Stage — June to August 2021
After a hard working first 60 days spent building networks and attracting new collectors to RomanPunks, our community had begun to flourish and sales increased. We build a solid corps of collectors/fans and collaboratied with numerous other projects and communities for project collaboration and co-promotion.
III. CHARACTER Stage — August to October 2021
By this stage of project development, the RomanPunk personalities and characters start to come to life. Character NAMES and DESCRIPTIONS added on WAX cards give clues to the character backstory; furthermore, project creators and team leaders will start hosting livestreams so the 'characters' behind the scenes can reveal themselves as well.
IV. GROWTH Stage — October to December 2021
Organic growth is paramount to the success of the RomanPunks project. For the duration of 2021, we will continue to mint WAX and ETH NFTs at a pace that is sustainable for a team of two (plus collaborators). By the end of the year, our 1,000 Ethereum-based collection will be completed and the WAX collection will start to flourish and grow. We will use funds generated from sales of our OpenSea collection to build our utility and gameplay first on WAX.
Completion of ETH Collection (1,000 NFTs)
WAX Blends through Neftyblocks
Refine vision for RomanPunk WAX gameplay and utility
Institute formal processes to bring project collaborators/employees on board for further project development
V. GAMING Stage — Q1 & Q2 2022
The key long term goal of RomanPunks is to develop the characters and world into a fully fledged play-to-earn game that is built on the blockchain.
Outsource the development of WAX gameplay with RomanPunk NFTs
Crowdsource the development of our Sandbox land and utility as part of their ecosystem
Consider ENJIN as a solution for developing a play-to-earn gladiator game that ties in with our Ethereum NFTs
VI. STORY Stage — Q3 & Q4 2022
Since the RomanPunk project is steeped in world-building, the long term growth of the project depends on writing the entire backstory of each character, describing the setting and outlining the many story arcs that are part of the universe
Generate character wikis/backstory on Fandom

Produce "RomanPunks" blockchain comic NFT series
Write short stories/novellas
Expand to other blockchains (BNB, Algo, Cardano, TEZ, etc.) to add other elements in the RomanPunk universe (i.e. locations)
VII. EMPIRE Stage — 2023 and beyond
The long term future growth of the RomanPunks project is owed to the success of the previous stages. Building the project successfully and consistently through 2021, 2022 and 2023 will allow for the generation of valuable intellectual property that can be further licensed and utilized going forward.
NFT staking
3D video game development
Novels
Film and television
Join the RomanPunks Discord, follow us on Twitter and check out our Medium for the latest project development updates.