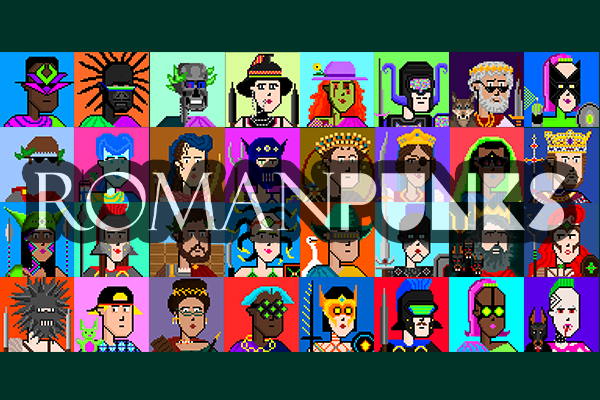 It's the year 410 AD, the Visigoths are sacking the city of Rome. A rift in the fabric of space-time occurs at the Temple of Jupiter Capitolinus. Suddenly multiple dimensions collide and coalesce. Time travelers & space farers exist alongside terrestrials who had previously lived thousands of years apart. The world is now a fractured patchwork of time and space with Rome at the center of it all. The world is now RomanPunk...
RomanPunks is a retrofuturistic, cyberpunk derivative world-building project inspired by fine art, history and the cryptopunk movement.
A total of 1,000 RomanPunk characters have been frozen in time and permanently minted on the Ethereum, WAX, Polygon and Algorand blockchains.
All images are drawn by hand by woman artist and co-founder, Cleopunktra, without the aid of AI or generative tools.
The basis for RomanPunk lore and backstories is exhaustively researched by history/sci-fi buff and co-founder, Punktavian.
RomanPunk characters are comprised of commoners and famous individuals based on Roman history, art history and pop culture.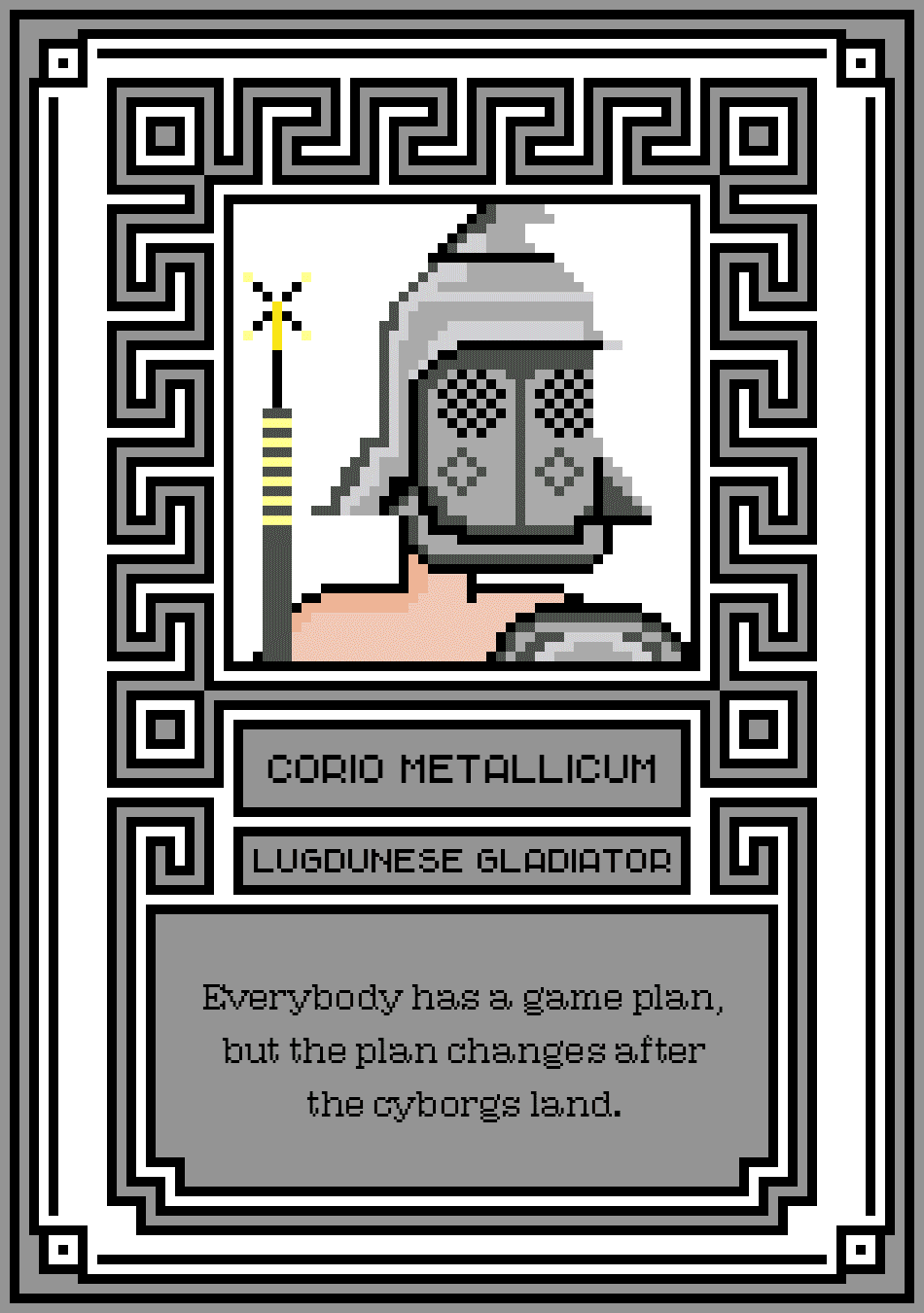 Browse our Collection on OpenSea, join the RomanPunks Discord, follow us on Twitter and read our Medium for the latest news.
RomanPunk Avatars on Ethereum

RomanPunks came into existence through early minting on OpenSea, promoting on Twitter and building a Discord community through giveaways and engagement. The idea of a cyberpunk-derivative 'RomanPunk' theme was in our heads for years, but it was the success of the Cryptopunks that became the catalyst for project conception and launch.
The Summer of Gladiators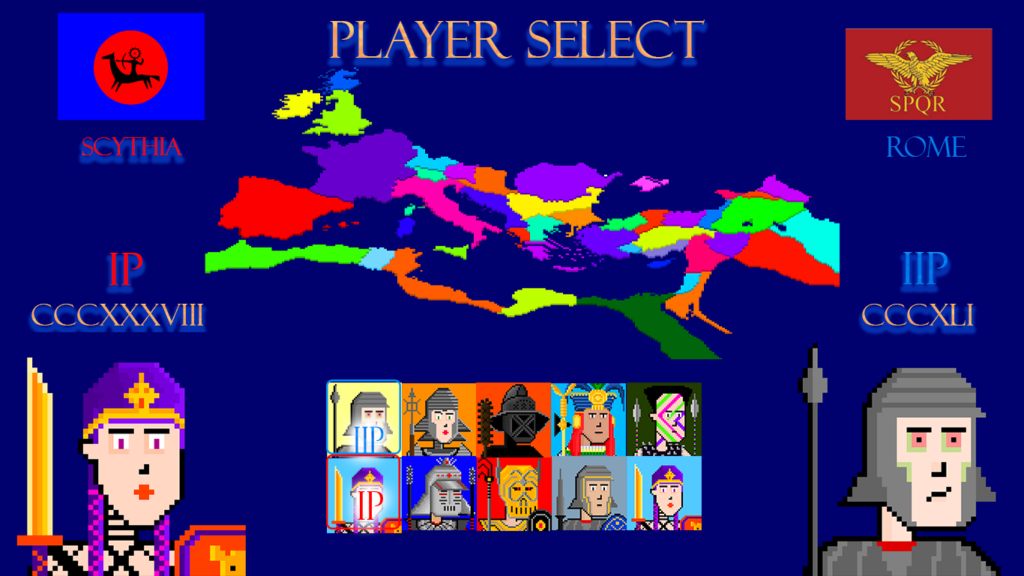 After a hard working first 60 days spent networking and attracting new collectors to RomanPunks, our community had begun to flourish and sales increased. We began to offer our collectors an opportunity to battle their NFTs in a tournament bracket powered by dice rolls.
Launch of WAX Blockchain Collection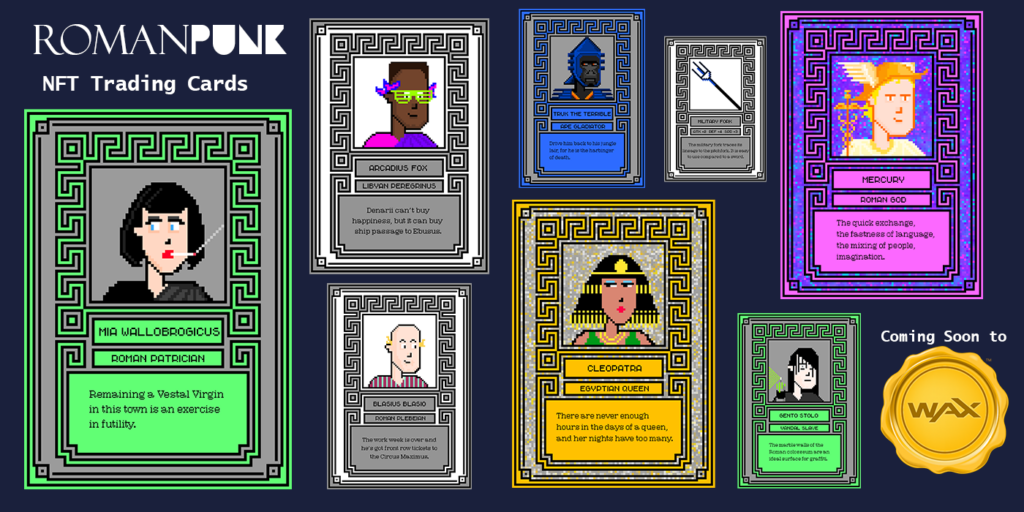 Encouraged by the tight knit community and the carbon-neutral blockchain with lightning fast and low cost transactions, we launched 'romanpunksio' collection on WAX Blockchain as the first step to expand the backstories of our RomanPunk characters and the baseline for future development of a card game.
Discord Catacombs RPG Bot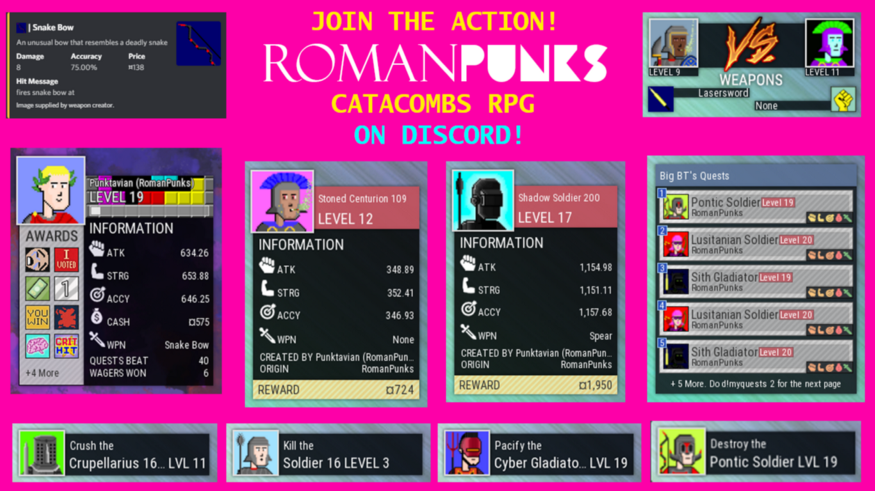 Further utility was added to the RomanPunks experience through the launch of Catacombs RPG powered by DueUtil, where Discord users spawn quests by engaging in the server; and a small percentage of the time, users will slay quests that are redeemable for WAX NFT airdrops.
Chainlink VRF Integration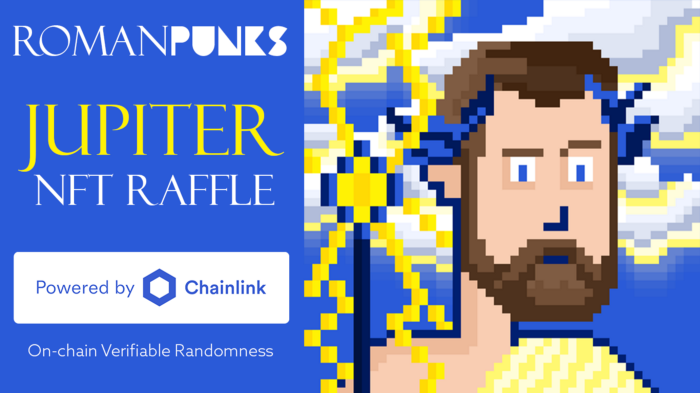 RomanPunks integrated with Chainlink Labs to utilize VRF (Verified Randomness Function) to host a giveaway raffle for our holders. We developed a smart contract on Ethereum which guarantees true random number selection on chain and can be used for a wide range of functions that require random selection.
WAX Fighter Pack Series I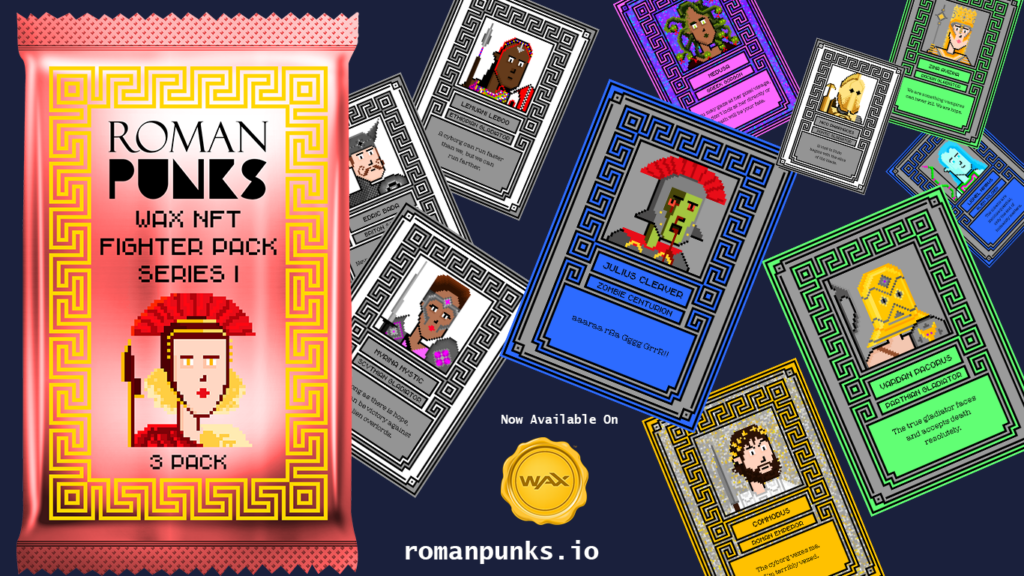 After much anticipation in the community, we released our first WAX NFT card 'pack' through the Neftyblocks platform, which sold out in less than a week.
Colosseum Clash on Twitch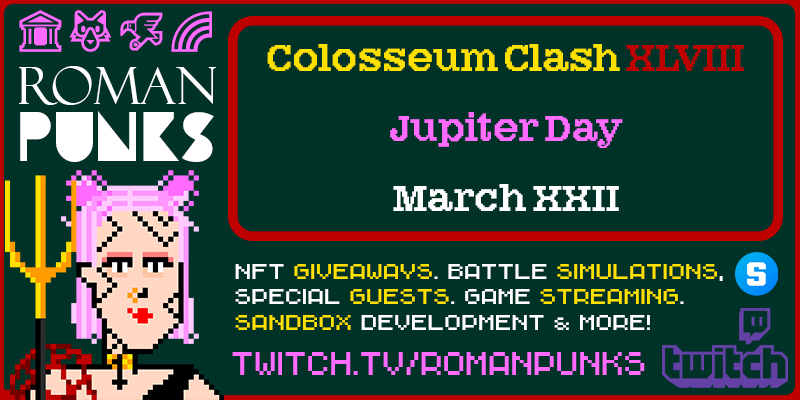 We launched our Twitch channel and begun building an audience by offering numerous giveaways of WAX NFTs from our collection, as well as giving participants a chance to win RomanPunk ETH NFT airdrops for taking top spot at the end of the 'season'.
The Sandbox Colosseum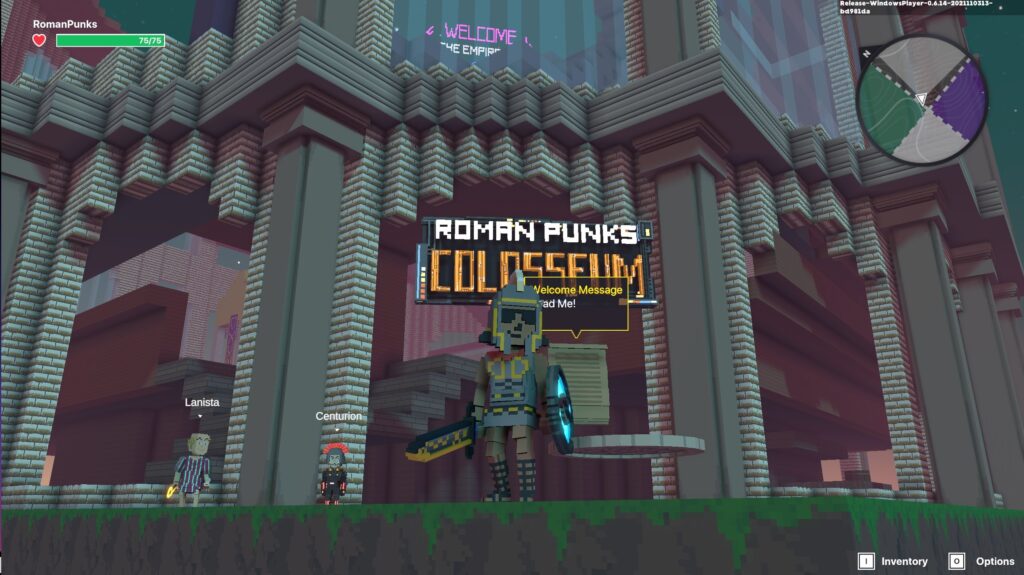 As firm believers in a metaverse future and land owners in The Sandbox, we undertook to build the RomanPunk Colosseum on 1x1 land and entered our experience "Gladiator Bloodsport" into a GameJam contest. We will continue to build the Colosseum into a PVP arena and social hub once The Sandbox offers creators the ability to do so.
The OG Alliance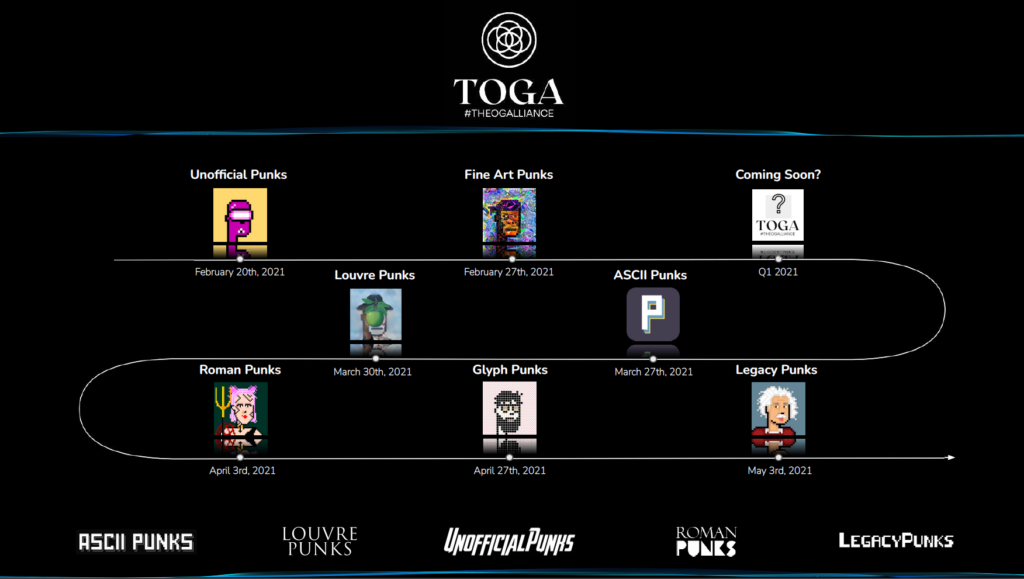 As the market gets increasingly more crowded and therefore more difficult for indie projects to get noticed in the NFT space, we felt it prudent to band up with a group of similarly aligned projects (alt-punk and others) from back in the day to form TOGA (The OG Alliance) as a collective marketing and promotional effort.
WAX NFT Blending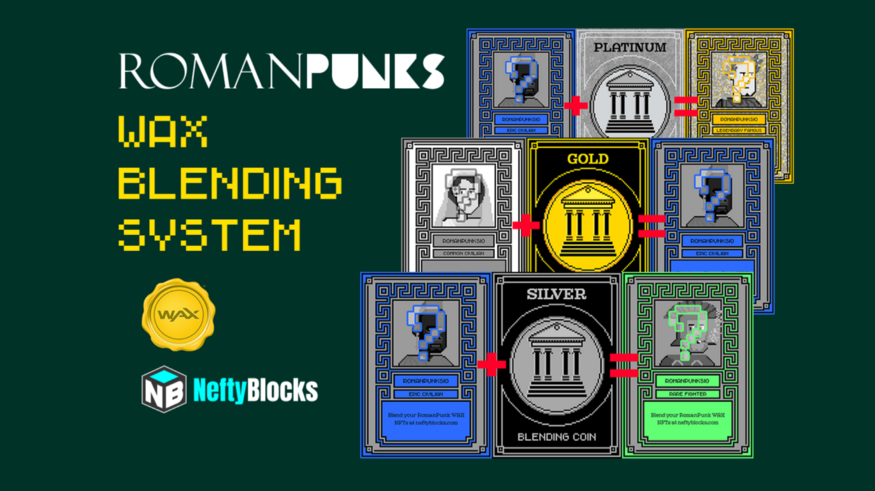 Thanks to the user friendly tools offered by NeftyBlocks, we launched a comprehensive blending system on WAX, allowing our collectors to blend the common NFTs they earn in our Discord RPG up into Legendary famous NFTs through the use of blending 'coins' that can also be earned on the Discord as reward for helping to promote the RomanPunks project.
RomanPunks VX on Polygon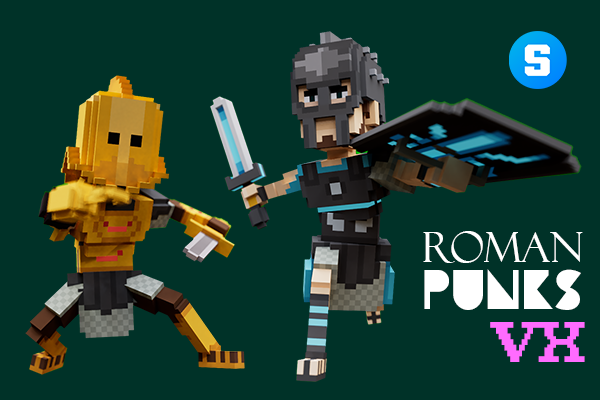 After a great deal of trial and error with The Sandbox VoxEdit and Light Tracer apps, we finally were able to launch our RomanPunks VX collection on Polygon. Each owner of an ETH NFT gets their voxel equivalent airdropped to them, and these NFTs can be redeemed for official NFTs on The Sandbox Marketplace once it is open to us.
1,000 Supply Cap Reached & VeeCon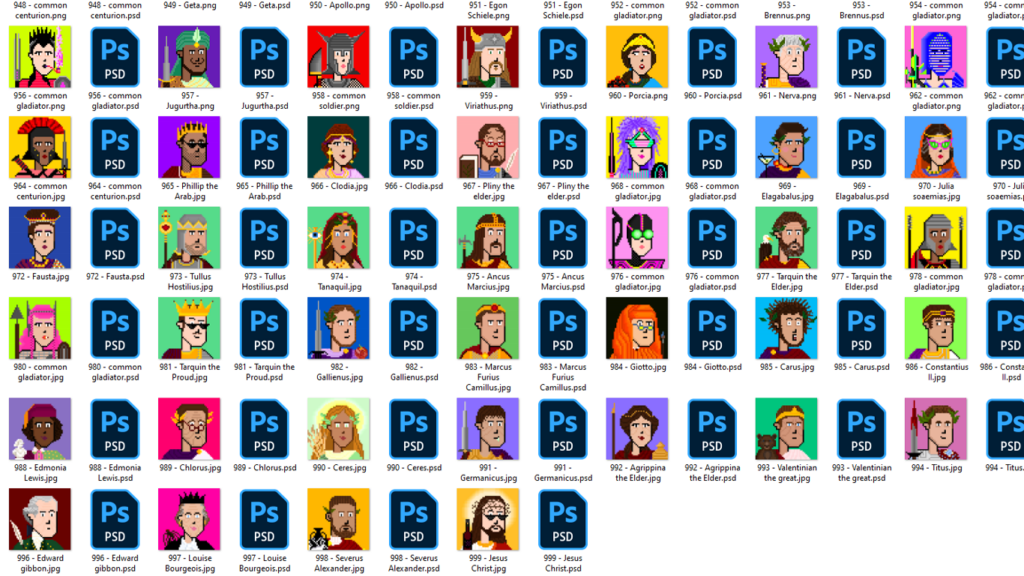 It's been a long, hard road but we've finally minted 1,000 original, unique 1:1 RomanPunks. Now we are ready to continue building out the project further, but first a networking break in Minneapolis for VeeCon 1 !
WE ARE HERE
WAX Fighter Pack Series II
The Sandbox History Meta Museum
Tokenomics & Staking Game Development
RomanPunks Comics and Lore Building
Browse our Collection on OpenSea, join the RomanPunks Discord, follow us on Twitter and read our Medium for the latest news.
Coming Soon – Comprehensive and searchable directory of all 1,000 RomanPunk Characters! For now, see a preview of some of our newest RomanPunks…
Browse our Collection on OpenSea, join the RomanPunks Discord, follow us on Twitter and read our Medium for the latest news.